Bernardus Lodge & Spa Lobby. Photo courtesy of Bernardus Lodge & Spa
Fragrant lavender cascades across the property in spring. Blossoming rose bushes hit their peak in summer. Fall brings additional color to the on-site culinary garden, and in winter, pine bough swags line the windows, and mistletoe hangs in every guest room doorway. No matter the season, Bernardus Lodge & Spa is always a feast for the senses.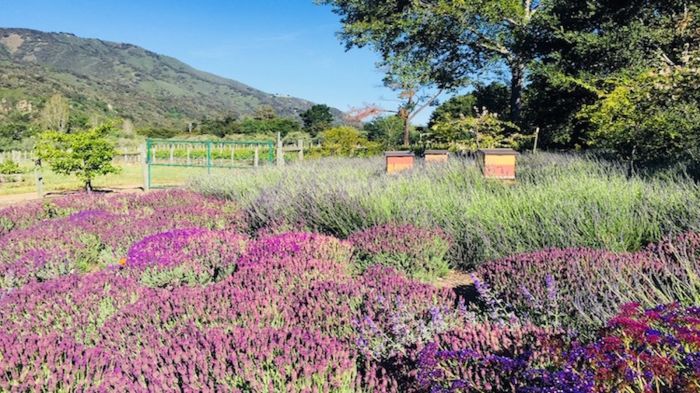 Springtime lavender. Photo, Fran Miller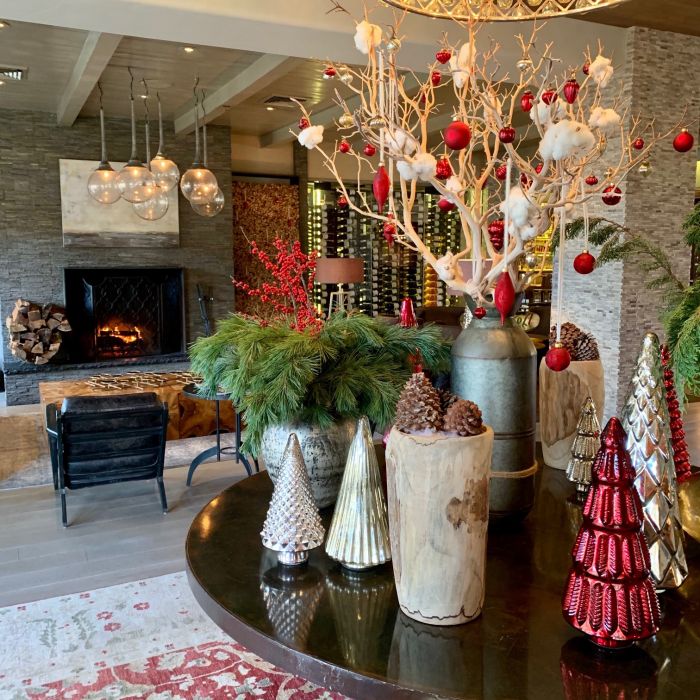 Winter decor. Photo, Fran Miller
Carmel Valley's Forbes four-star property celebrated its platinum anniversary this year; 20 years looks marvelous on its 73 rooms and suites and 28 gorgeously groomed acres. In truth, the resort has never looked better. You'll not find any hotel in the area to be quite as chic and effortlessly elegant. Bernardus guests find all they need on property for a luxuriant and relaxing getaway: a sumptuous spa, a fitness room, an expansive 10,000 sq. foot bocce lawn, a pool and two hot tubs, and fire-warmed nooks in which to nestle.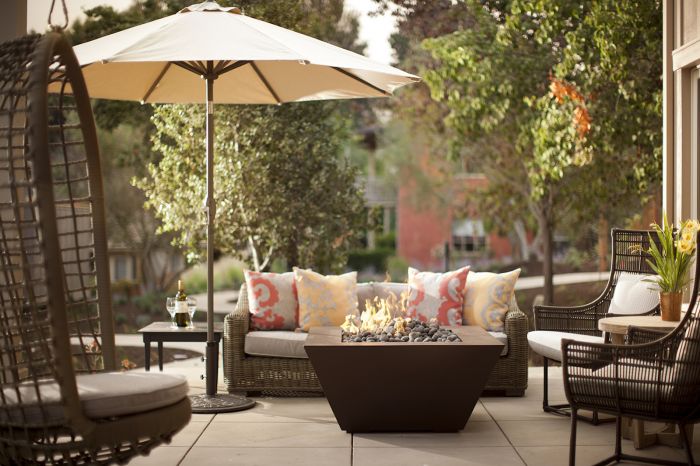 Villa Patio. Photo courtesy of Bernardus Lodge & Spa
Those 20 years also look good on Executive Chef Cal Stamenov who has served at the helm of the resort's restaurant since its 1999 opening. Originally opened as Marinus, the space was remodeled a few years ago as Lucia. Chef Cal personally oversaw the renovation and ushered the vibe from formal elegance to relaxed sophistication. Rich white Italian leather pairs with rustic elements such as the focal point stone fireplace. Additional seating areas include the 10-seat private wine cellar table set amidst thousands of labels, the 12-seat Magnum Room, and the exclusive four-seat Chef's Table where guests (including many A-listers) display their Chef Cal appreciation with black sharpied, hand-written messages.
Having formerly worked with notable culinary talents such as Alain Ducasse, Masa Kobayashi, and Jean-Louis Palladin, Chef Cal exhibits extraordinary depth and breadth in the kitchen. It's no surprise that his talents were also recognized by Forbes which granted Lucia its own four stars, making the Bernardus property an overall eight-star resort.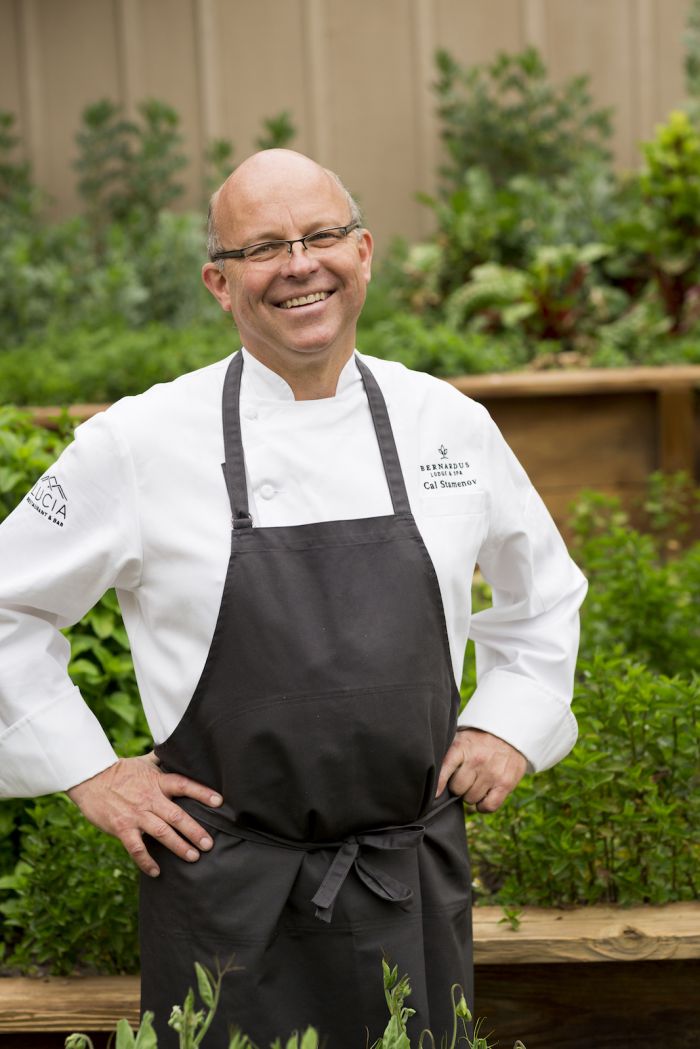 Lucia Executive Chef Cal Stamenov. Photo courtesy of Bernardus Lodge & Spa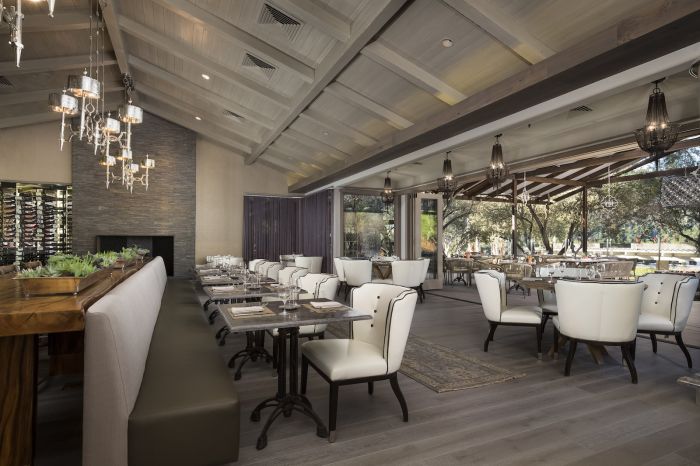 Lucia Dining Room. Photo courtesy of Bernardus Lodge & Spa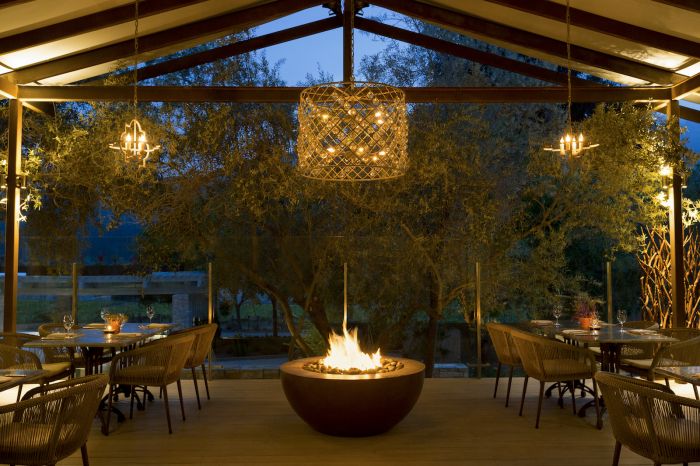 Lucia Patio. Photo courtesy of Bernardus Lodge & Spa
The Lucia menu features items for all – from beef, to fish, to vegetarian options. Culling from the Lodge's organic garden and cornucopia of fruit trees, heirloom vegetables, honey-filled bee boxes, and cache of Plymouth, Barred Rock, Rhode Island, Speckled Sussex and Ameraucana chickens, Chef Cal highlights the best of each season in his creative and delicious dishes. Diners are the beneficiaries of his years of friendships with local fisherman, growers, and foragers who provide him with the best and freshest ingredients.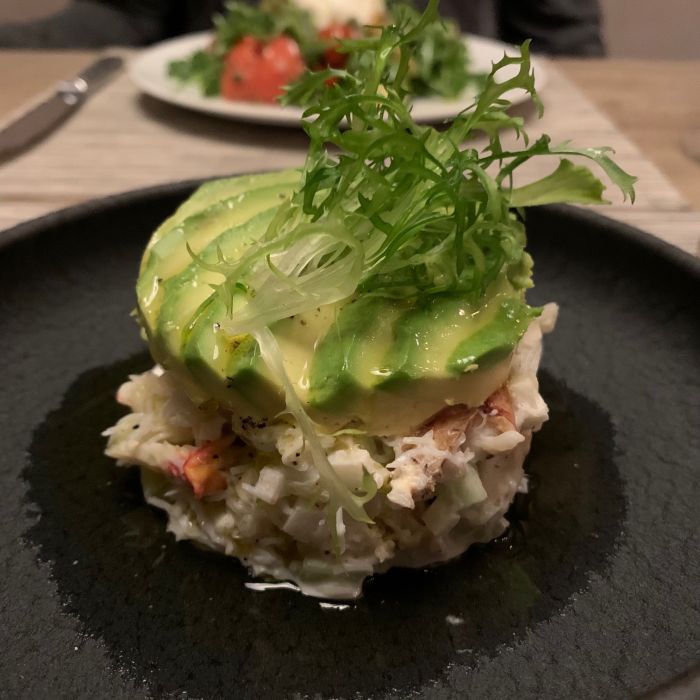 Photo, Fran Miller
Accommodations: The resort's suites and villas are the choice for those seeking a little more living space. Plus, they provide quick access to the adults-only infinity whirlpool and fire pit with mountain and vineyard views. At 1050 and 2100 square feet, these deluxe quarters feature vaulted ceilings, French doors, large master baths with free-standing hammered copper soaking tubs, al fresco showers, radiant heat floors, double sided fireplaces, and fully furnished private patios with fire pits. Take note of the many dramatic chandeliers and lighting fixtures – works of art each. Plush interior design includes buttery cognac leather upholstery, rustic European oak floors, ebony furniture, and honed limestone fireplaces.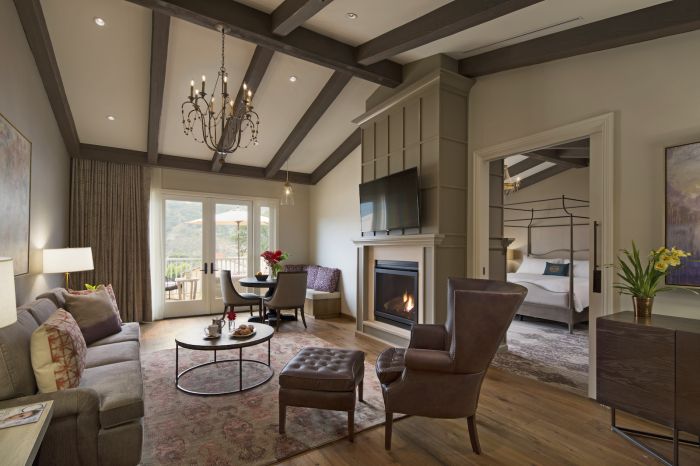 Villa Living Room. Photo courtesy of Bernardus Lodge & Spa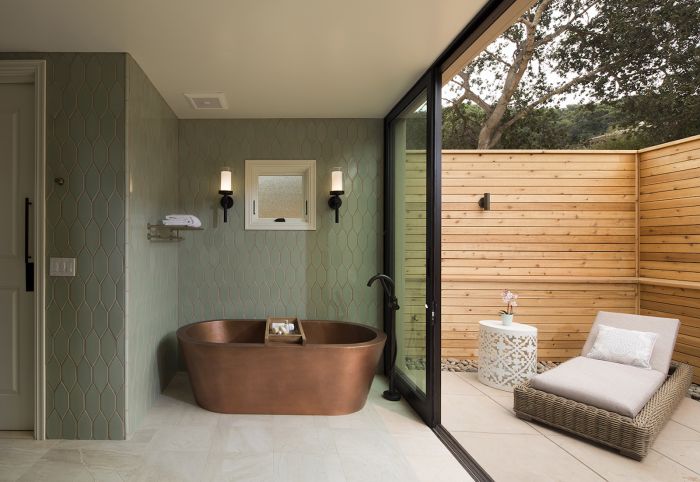 Villa Bath. Photo courtesy of Bernardus Lodge & Spa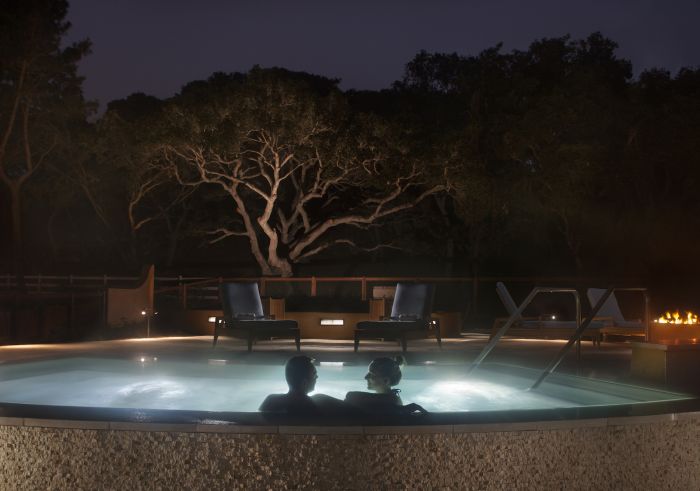 Adults-only infinity hot tub. Photo courtesy of Bernardus Lodge & Spa
Wallflowers none are Bernardus' other rooms, each large by industry standards and luxuriously equipped to please even the most pampered traveler. Scattered throughout the property and overlooking either the main pool, the central bocce and croquet lawn, or the rose and chef's gardens, these premium and luxury guest rooms are the epitome of ranch house chic and feature refined décor and comfy furnishings perfectly juxtaposed with the beauty of the natural surroundings.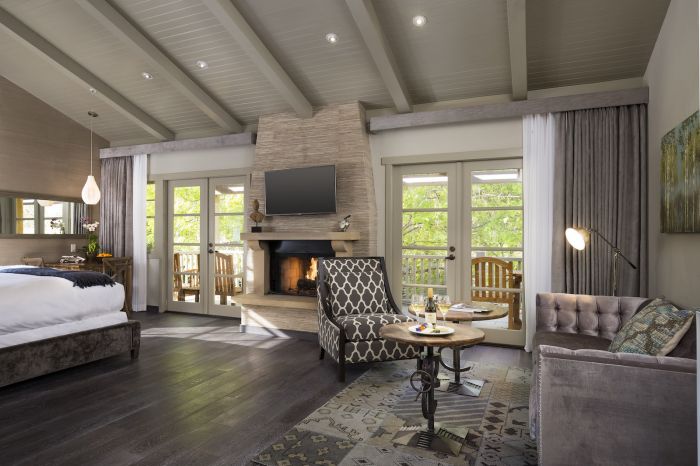 Lodge Room. Photo courtesy of Bernardus Lodge & Spa
The Spa: The Spa at Bernardus offers an in-depth, individualized approach that addresses particular lifestyles and stresses. Luxurious treatments are infused with botanical ingredients, many culled from the local vineyards and on-site gardens. Try one of their signature services such as Lavender Bliss, utilizing Bernardus estate grown lavender to awaken the body and soothe the soul. Island Lomi Lomi is an inspired massage restoring a sense of harmony and balance to mind, body and spirit. Japanese Balancing Massage incorporates a mix of shiatsu inspired techniques to open energy pathways with a kinmoxei wild lime silk oil to energize, warm and restore the body's balance. Sticks and Stones Massage combines smooth Birch wood sticks and warm basalt stones in flowing massage movements to induce relaxation and tension release. Before or after your treatment, enjoy the spa's private warming pool, or pull up a chaise near the larger pool that overlooks the bocce courts and outdoor terrace.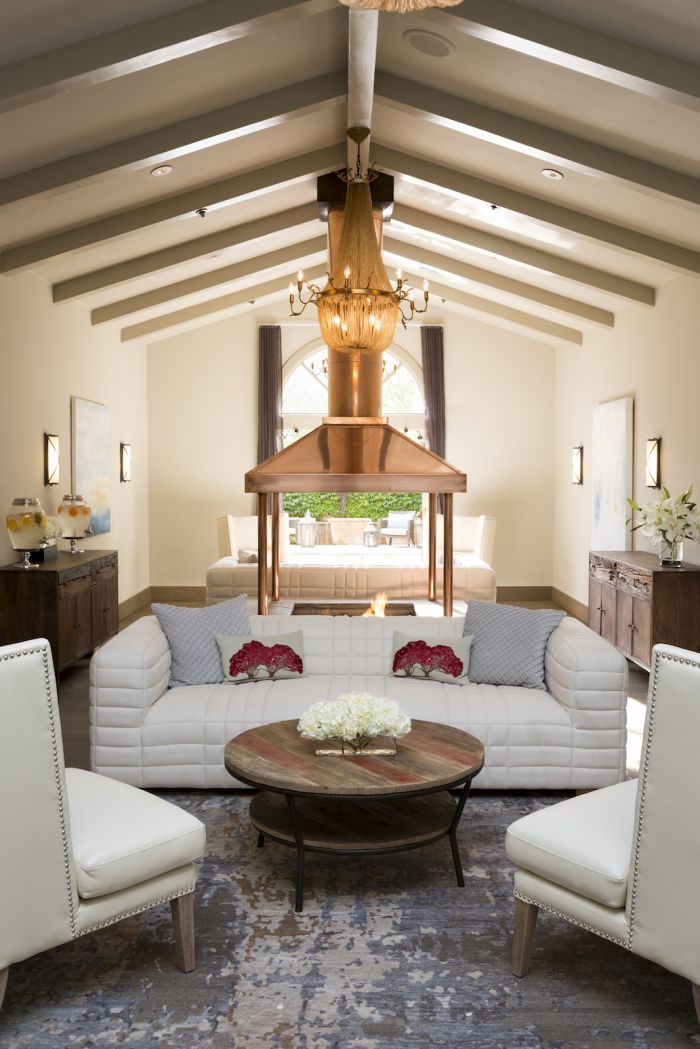 Spa warming room. Photo courtesy of Bernardus Lodge & Spa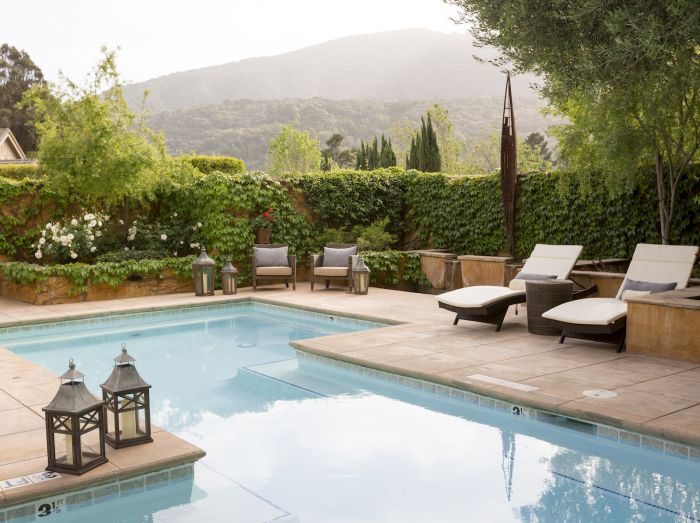 Spa pool. Photo courtesy of Bernardus Lodge & Spa
Forbes Travel Guide rated nearly 1,700 California properties this year; of those, only 11 were granted dual (hotel and restaurant) Forbes Travel Guide Four-Star awards. Bernardus Lodge & Spa is one of those 11.