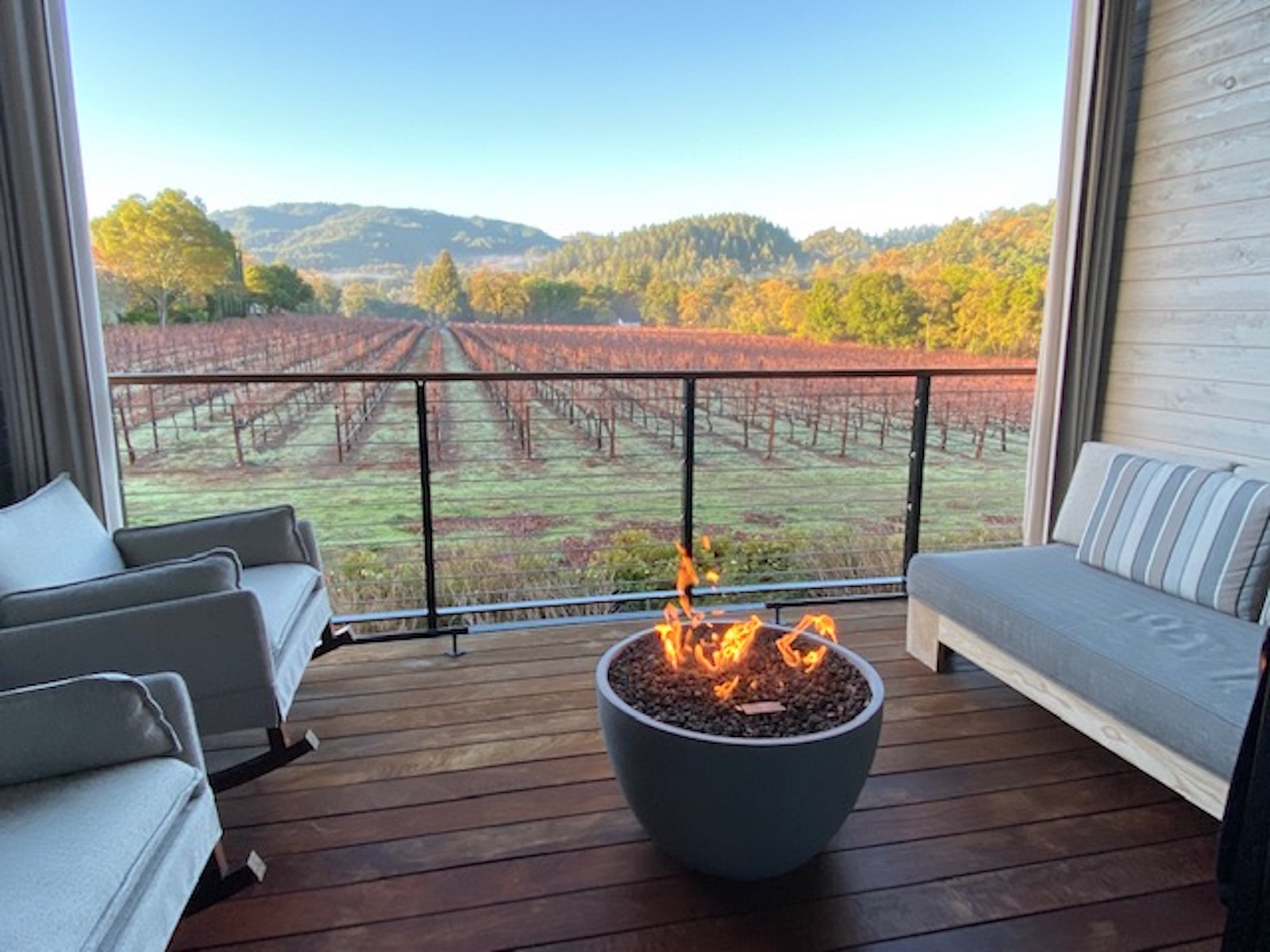 Photo, Dan Miller
Napa Valley boasts a number of luxury hotels poised to take advantage of vineyard views. But none nestles itself so closely amongst the vines as Las Alcobas Napa Valley. This Luxury Collection Hotel shares its central St. Helena location with historic Beringer Vineyards, and many of its sumptuous guest rooms are within arm's length of the grapes.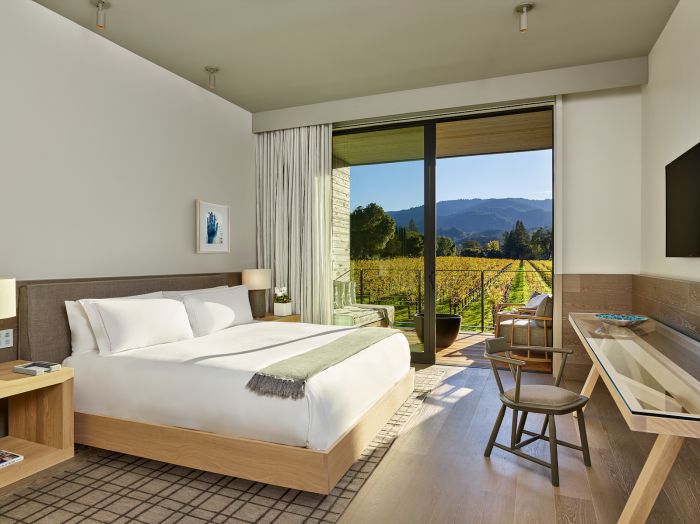 Standard King Room; Photo courtesy of Las Alcobas Napa Valley
No visit to Napa is complete without a venture amidst the vineyard rows that serve as the lifeblood of this verdant valley, and a Las Alcobas stay makes exploration easy. Relax on your large, private, fire-pit adorned deck that overlooks the Beringer Vineyard, or take a more active approach and bike the nearby trails and streets that meander in, out, and around some of the area's most beloved wineries. (The hotel's fleet of Trek bikes stands ready and waiting every morning.) Whatever your pleasure, Las Alcobas' stellar location – just steps beyond St. Helena's quaint downtown district – allows you to park and leave your car for the duration of your stay.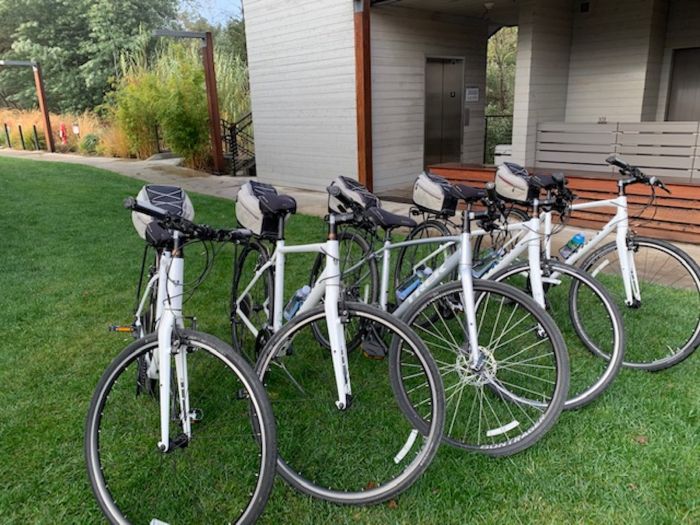 Photo, Fran Miller
Within walking distance are some of the Valley's most popular wine tasting venues, lauded restaurants, and boutique shopping. And right next door, connected by a new, eye-catching pedestrian bridge, is historic Beringer, where Las Alcobas guests receive preferred pricing and special experiences such as the 'Symphony of Wines' tasting, eight pours of Beringer's award-winning Cabernets.
Despite the hotel's proximity to a multitude of 'bucket-list' restaurants, no Las Alcobas stay is complete without an Acacia House meal. Celebrated Bay Area chef and Top Chef Masters winner Chris Cosentino oversees the on-site, rustically elegant 50-seat restaurant, housed in the 100-year old Georgian-style Acacia House. A favorite hangout for locals, the warm and welcoming dining room is refined yet casual. Every detail, from the steak knives to the antique etched bar ware, has been thoughtfully curated. Cosentino's menu changes regularly; he utilizes wine country's seasonal bounty to showcase a refined twist on classic beef, fish, and poultry dishes. Creative vegetable offerings more than satiate vegetarians. All flavors are bold and often unexpected – a dab of caviar here, a serrano chile slice there. And though the wine choices are plentiful, it's the Las Alcobas margarita that begs for a sup – a lemon rather than lime based recipe libation topped with fluffy salted foam that substitutes for a salted rim. The drink is borrowed from the hotel's sister property in Mexico City.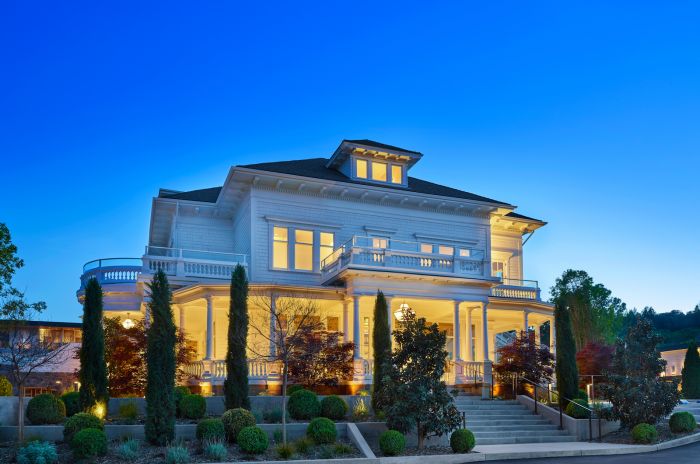 Acacia House; Photo courtesy of Las Alcobas Napa Valley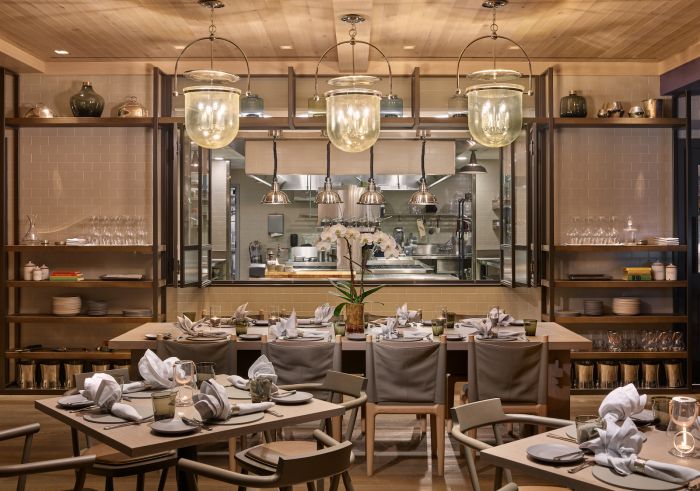 Chef's Table at Acacia House; Photo courtesy of Las Alcobas Napa Valley
Earn a second margarita with a workout at the hotel's state-of-the-art Fitness Center, where a variety of complimentary wellness classes are offered Friday through Sunday mornings. Or, schedule a private session with a fitness instructor. Recharge tired muscles at the hotel's exquisite Atrio Spa featuring four votive-lit single treatment rooms and a couple's treatment suite, each flanked by the central Sanctuary, an indoor/outdoor respite where hibiscus tea and healthful treats are offered. Unique Asian healing therapies and techniques, for which therapists undergo intensive training, are menu highlights and are found nowhere else in the Valley. Nor is Atrio's aroma blending experience, a highly personal indulgence led by an aromatherapy expert who guides guests towards a signature scent. The blend is utilized during massage treatment and a small bottle is provided for take home – a wonderful way to extend the refined Las Alcobas experience.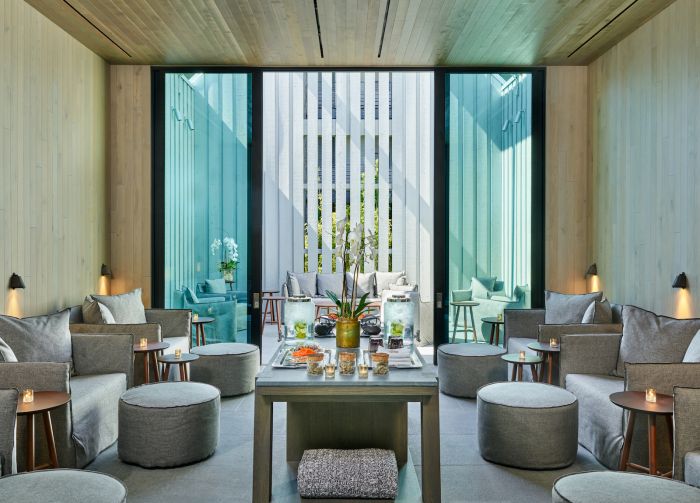 Atrio Spa Sanctuary; Photo courtesy of Las Alcobas Napa Valley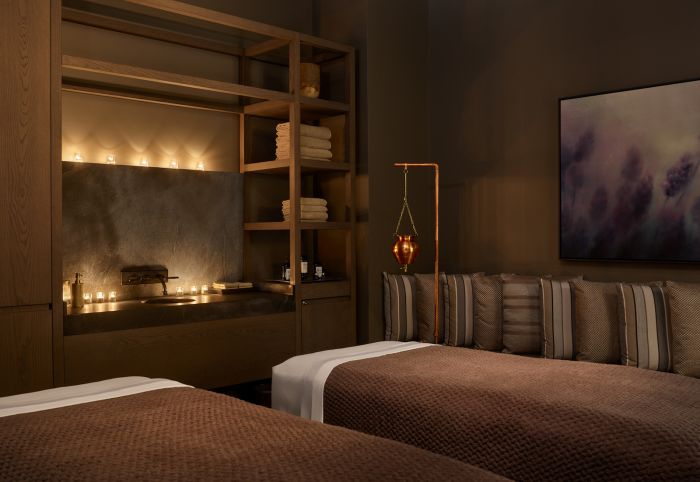 Couples Treatment Room; Photo courtesy of Las Alcobas Napa Valley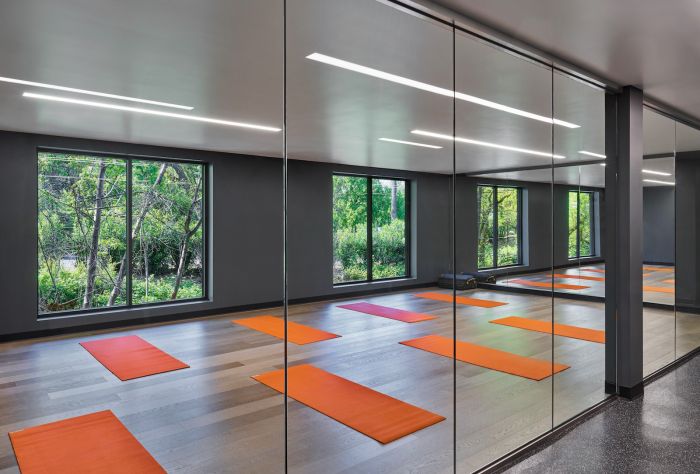 Fitness Center Yoga Studio; Photo courtesy of Las Alcobas Napa Valley
And finally, the rooms. Each is a spacious minimum of 450 sq. feet. Suites are an expansive 1,500 sq. feet; some have outdoor soaking tubs. All feature Rivolta Carmignani Italian bedding and plush robes. Every aspect, from linen upholstered headboards, to birch ceilings, to oak flooring, is custom designed by international firm Yabu Pushelberg in shades of gray. Well more than 50 soothing hues have been harnessed, from carbon, to charcoal, to dove. Spa-like marble bathrooms feature large soaking tubs and stone carved sinks. Each room boasts its own private outdoor balcony with gas-lit fire pit. Morning or night, the glow and warmth of a flickering flame creates unmatched ambience. Cuddle up with a wool throw blanket and add a mimosa or glass of local cab to further elevate the experience.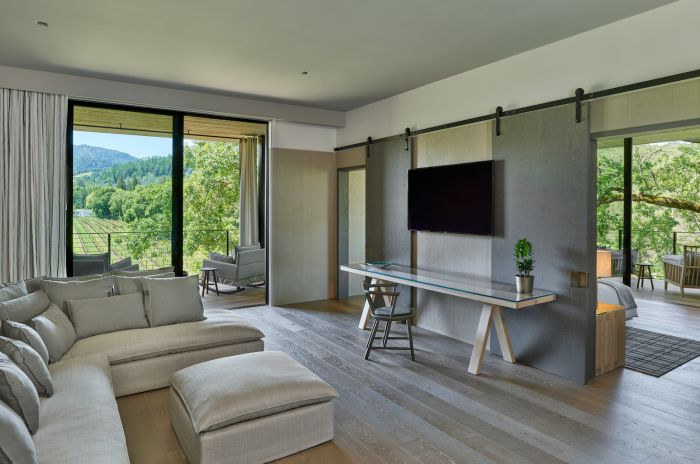 Spring Mountain Suite Living Room; Photo courtesy of Las Alcobas Napa Valley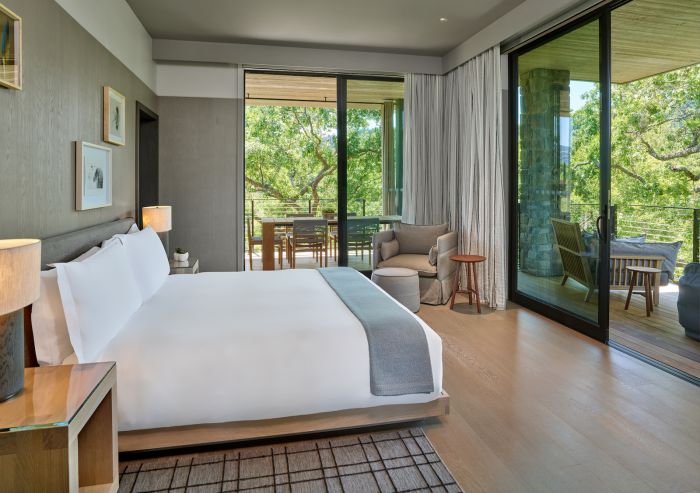 Spring Mountain Suite Bedroom; Photo courtesy of Las Alcobas Napa Valley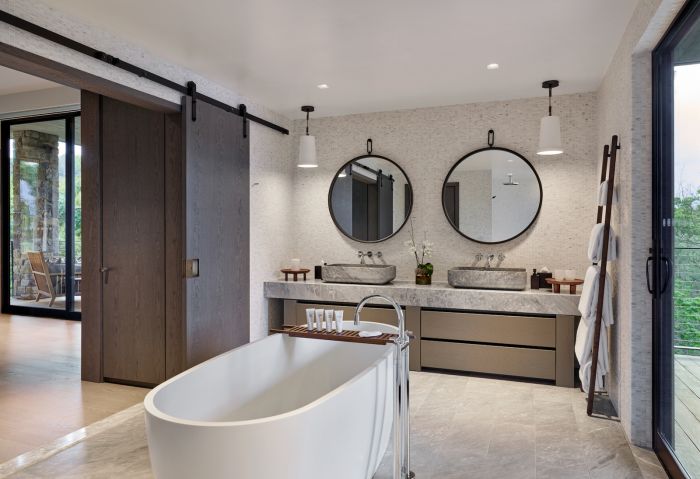 Spring Mountain Suite Bathroom; Phot courtesy of Las Alcobas Napa Valley